Overview
This theme is for the district or school that relies on the public site to get daily information out to the community using imagery and text in an organized way. It is an enhanced version of the Reprised Theme. The school or district name is featured on the left side with the Header and Footer Link Lists for your social media icons under the title. The background header images don't overwhelm the background of the entire page and are now featured as a gallery on the right side of the page, giving you an additional area to feature news and announcements in addition to the Header Feed that displays underneath. You can also add link names to header link list icons making it easier for visitors to understand what the icons mean. Like all eChalk themes, it is fully responsive and compatible with all devices.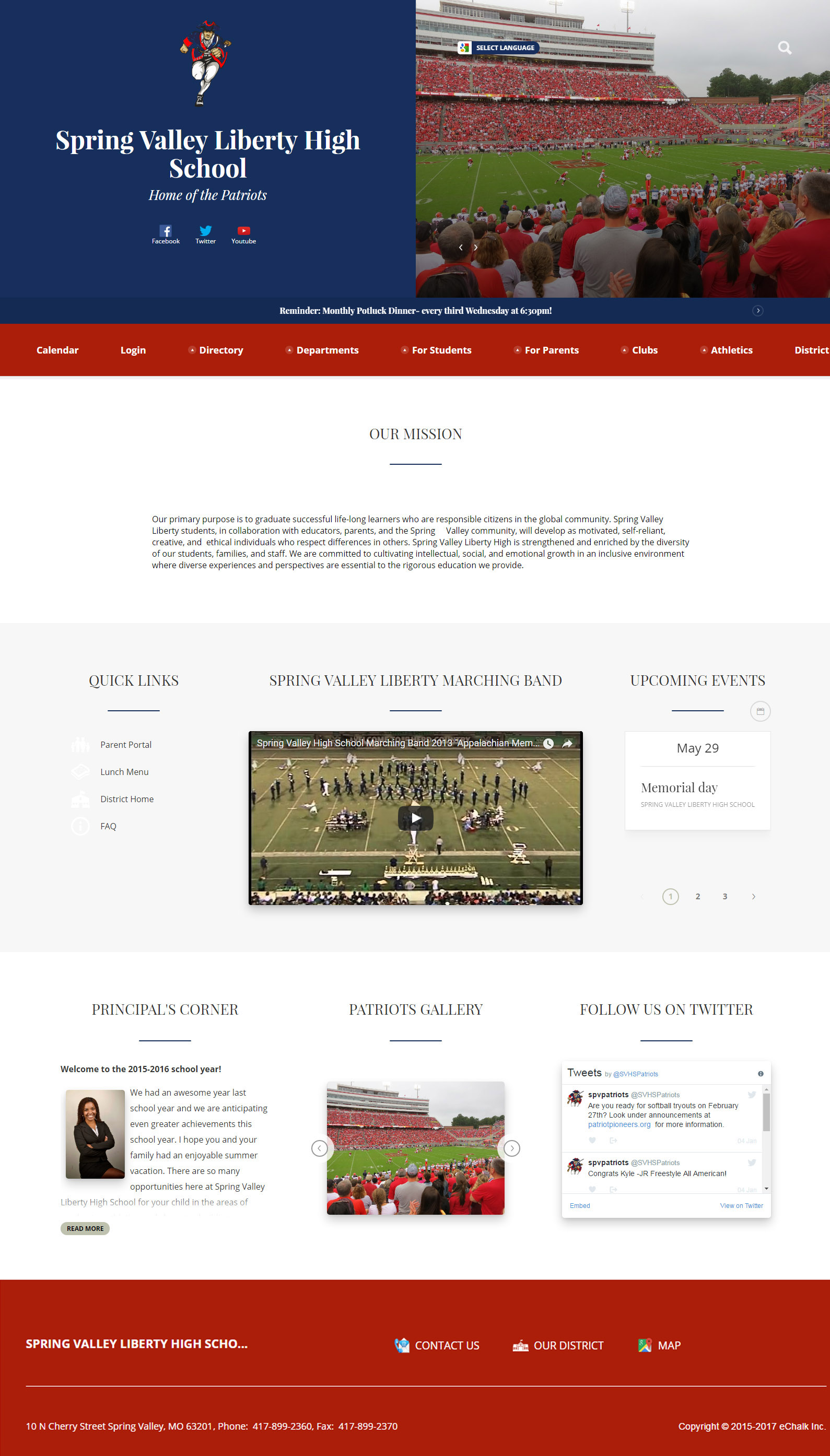 How Colors Are Used
The Prestige Theme uses the secondary color selection for the main navigation area and for accents. Click here to see how the secondary color is used in this theme.
The site's primary color is used as the background for the background of the school name and the header feed. The background color of the content blocks is white. Click here to see how the primary color is used in this theme.
Image Recommendations
Header Images in portrait orientation work best in this theme.
Header Images should be at least 519 px by 571 px so they do not appear pixilated or blurry on the homepage.
Logos sit on top of the background images so they display best when they are monochromatic with a transparent background. Consider a slight drop shadow on the logo to ensure it displays well on top of background images containing the same color.
Logos should not exceed 300 px by 300 px.
Unique Features
With the Reprise Theme, you can:
Keep the navigation links "sticky" so the navigation stays on the screen as visitors scroll down your homepage.
Add Images to a theme Header area and use it as a slideshow or additional announcement area. Header Images will automatically create a rotating slideshow if multiple images are added.
Add a Feed block to the Header area.
Add names to Header Link List icons.
Header Feed posts when clicked on opens in a shadow box.
Content Blocks stand against the solid background color.