Our October 2020 became available beginning 8AM on Saturday, October 25th 2020. Read below for information on the update on your site!
New Link List Configurations
The new Link List settings allow you to control the alignment, image size, text size, and text wrapping settings for your Link Lists. Changing these settings gives you many more options for new design strategies for your page. You can choose larger text, larger images, or both, and Links will expand to fit the content. You can even create an entire page of Links that is colorful and visually appealing.




Color Controls for Site Alerts
Now you can use color to make Site Alerts stand out more on your site or as another way to indicate the severity of the alert.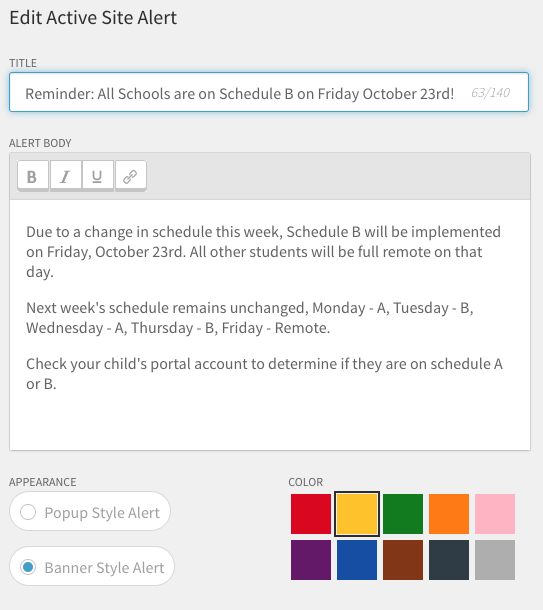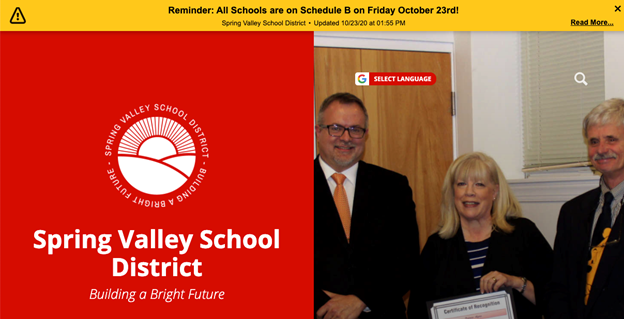 Underline Detection in eChalk Guide
We added underline detection to eChalk Guide to help you easily find and remove redundant underlined text to better improve your school's web accessibility for visitors with disabilities.
Fixes
Updates to Google Custom Search Compatibility


Updates to Google Custom Search for compatibility with their latest release

Accessibility


Minor adjustments to color contrast tests and colors used on text not visible on-screen for improved accessibility
Release Notes
View our full release notes.
Haven't activated eChalk Guide yet? Get started today!
Check out the new Guide Tutorial to see how easy it is to identify and correct accessibility issues in your eChalk site using Guide. Contact support@echalk.com for a demo of eChalk Guide!